Looking for CBD isolate that is Health Canada compliant and legal for sale in the Canadian recreational cannabis market? Do you need 100% cannabidiol isolate for export? We currently have over 100 kg of 100% pharmaceutical-grade cannabidiol isolate available for immediate sale. We manufacture thousands of kg's per year and are the leader in CBD isolation and other rare cannabinoid isolations at Greenleaf.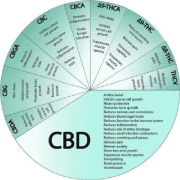 Cannabidiol, is a chemical compound present in the cannabis plant. Unlike full-spectrum products, cannabidiol isolate does not contain any THC, the psychoactive component of cannabis.
CBD isolate & how can it help?
CBD is a compound derived from the cannabis plant. Cannabidiol will not make you feel that euphoric high like THC will. CBD and THC are two of the more commonly known cannabinoids in cannabis. There are well over 100 different cannabinoids in the plant.
What Is Cannabidiol Isolate?
Isolate is "a person or thing that has been or becomes isolated."
a cannabidiol isolate is just what it sounds like cannabidiol that has been isolated from all other compounds in the cannabis plant. Put simply, CBD isolate is the purest form of CBD you can get.
CBD isolate is a crystalline powder that is 99% pure so you know it is free of impurities. This includes waxes, oils, other phytocannabinoids, chlorophyll, and more. What's left is a crystalline powder. It is white and like salt.
CBD distillates, potent concentrates distilled from CBD hemp flower.
Contact us today to start the conversation.
We are always here to help. Our CBD experts can answer any questions you have. Call today. We love to talk cannabis and do not charge for the first consultation. If you have a CBD product you are looking to bring to market, we want to help.